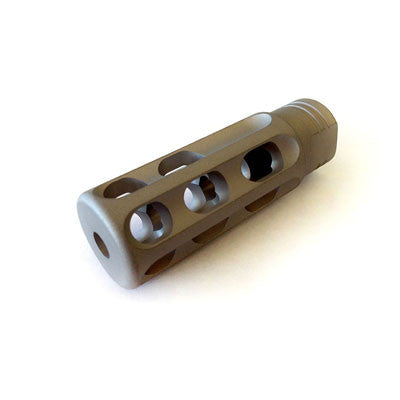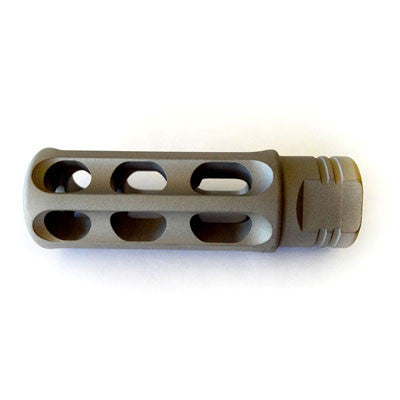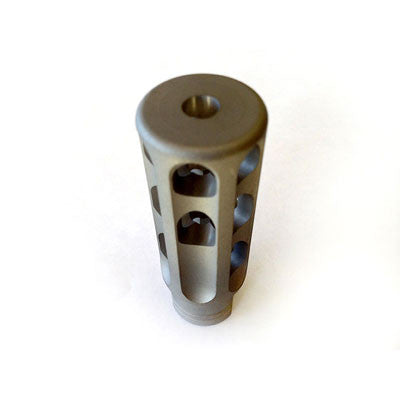 SuperComp® XL .223 Muzzle Brake Titanium Bead Blasted Stealth Gray (sku304)
Limited Stock, Closeout .FABULOUS light weight Brake. Simply best light weight brake on the planet for reasonable price. Color slightly lighter than appears on web.
Top of the top line of SuperComp® Brake. Intended mostly for competition or those that want lowest swing weight.
This is medium Stealth Gray but can be darkened to darker stealth gray by application of gun oil.
If you want rapid return to zero, low recoil and low weight this brake can not be beat.
SuperComp® XL brake is the ultimate in recoil reduction and fastest return to zero of any brake we know of including our own other SuperComp® brakes. This is a bead blasted version which has a natural stealth gray flat finish. It can be left as is or finished to different color later.
From .223 thru .308, its performance simply cannot be appreciated until shot. So good it is available on JP Enterprises Custom Builds. Makes a .223 have virtually no recoil or sight movement and "feels like a .22". In .308, it feels like a .223. It uses the same patented SuperComp® Hex SSP (6 way Star Stabilizing Pattern) as our other SuperComp® brakes but this model has three mixing chambers and a whopping 14 unique axial ports. No rearward facing gills or linear dynamics and will not affect accuracy as other designs. Sound is actually reduced compared to Birdcage. The result is incredibly fast follow up shots. No restrictions on use or amo Shooting .300 Blackout? Use the .308 model for hypersonic or subsonic loads and virtually no recoil. So little muzzle movement, most time you can see your hits thru scope.
This is Grade 5 Billet Tianium CNC model for .223. Threaded ½ x 28 tpi for standard .223/5.556 with included stainless crush washer. Incredibly light weight for performance, Ideal is carrying weight is critical or reduction in swing weight.  Titanium is the ultimate metal for brakes because of strength and light weight. However it is best suited for those who want the ultimate despite downside of sparking at night or with hot loads. It does not wear as well as steel but will not fail. Also available in steel and .308 models.. Nobody will mistake it for anything but Titanium. Dimensions 2.996 x .996 inches. Weight 4.8 oz steel 2.8 oz in Titanium US Patents D  D 666,687 692,086 711,491
223 Titanium Version, ½ " x 28 tpi with included stainless crush washer, Bead Blasted finish

Muzzle Brake, not a flash hider or suppressor

Range shooters report less than 10 MOA disturbance of reticle in

Best brake, incredible value in Grade 5 Titanium Billet CNC

Very light weight

Includes crush washer