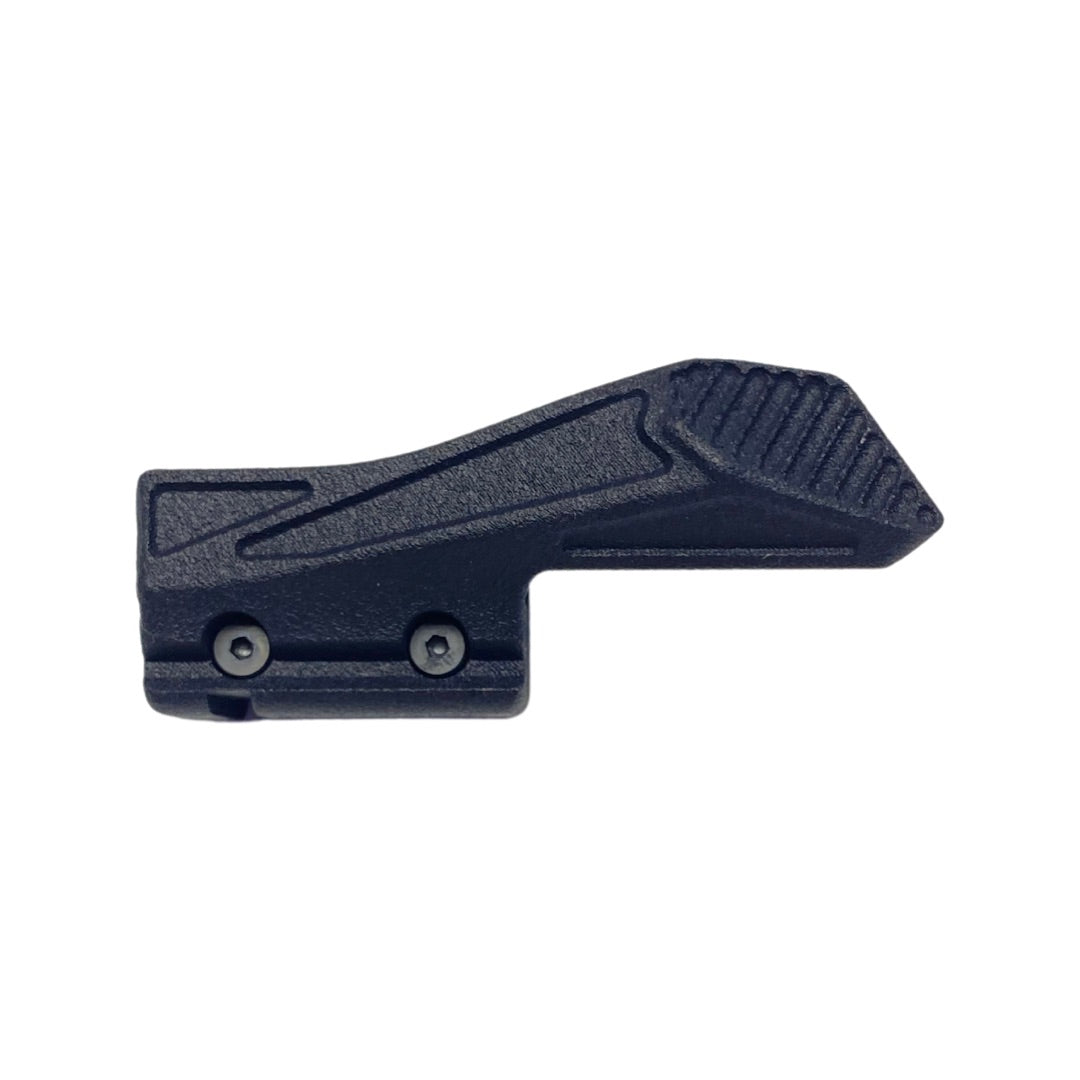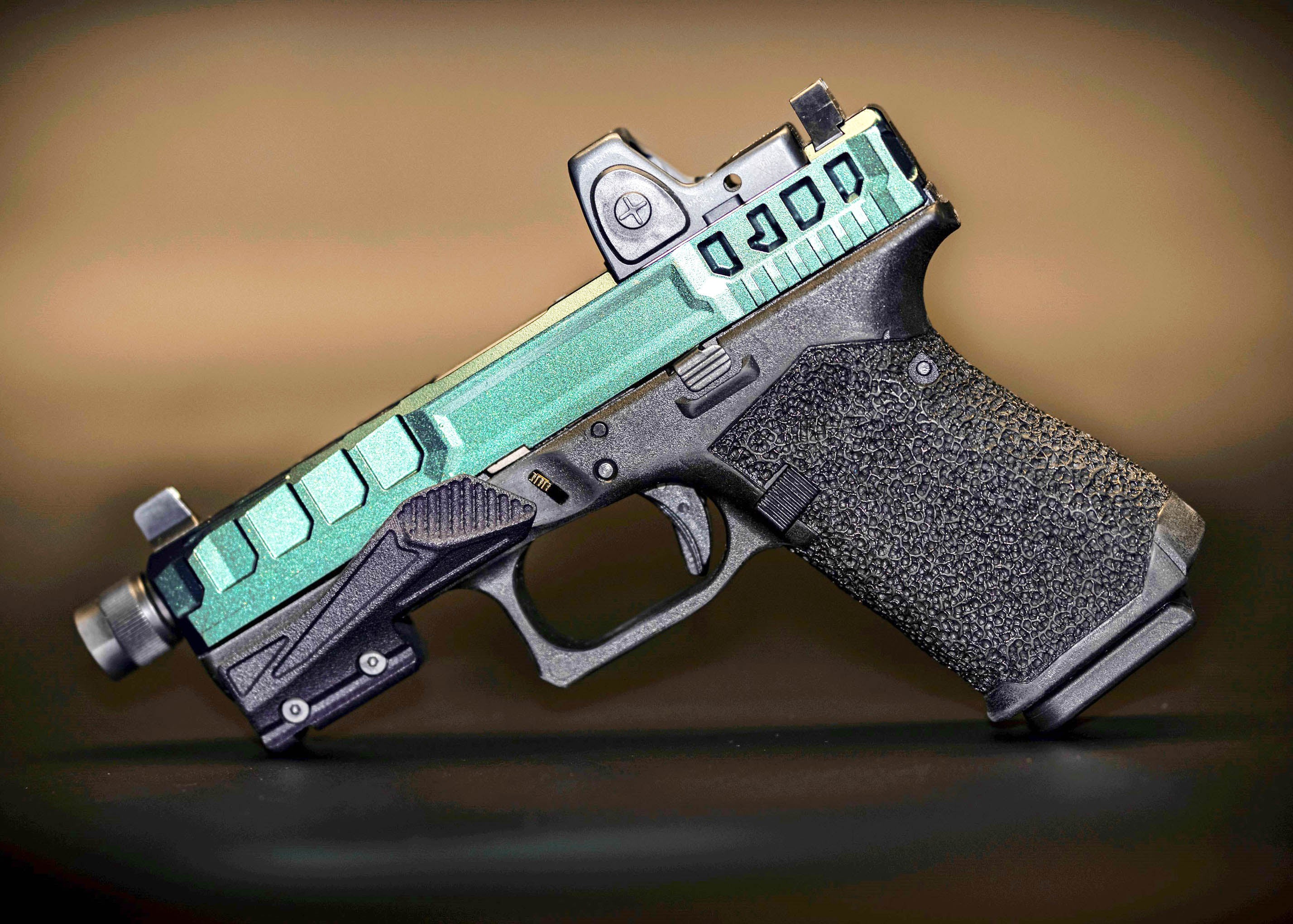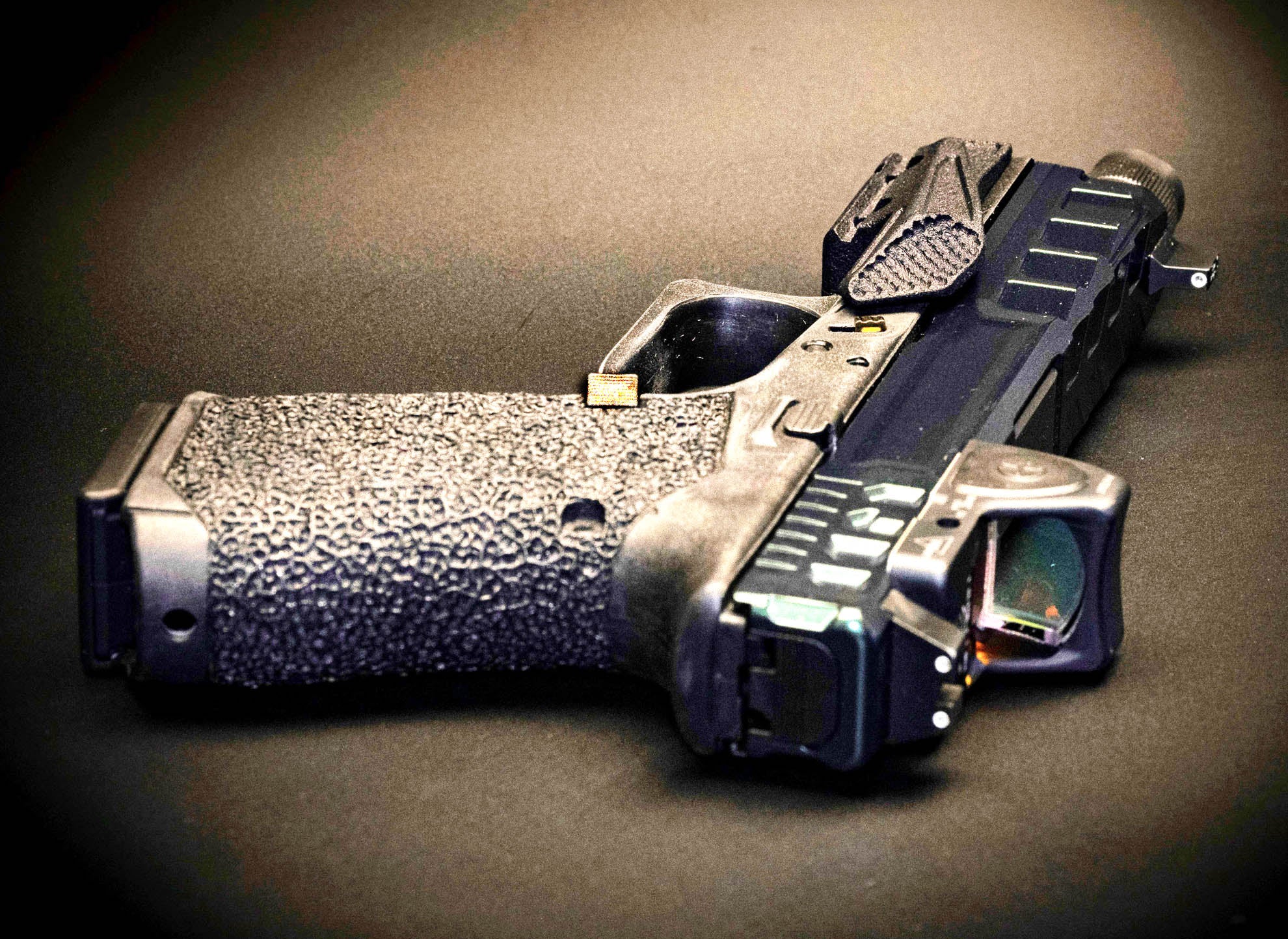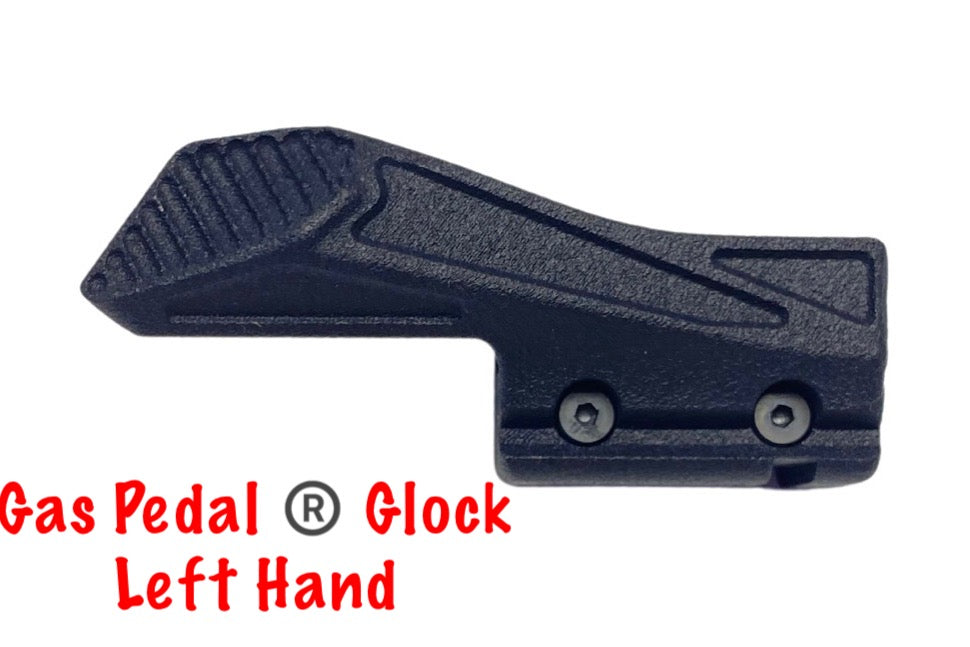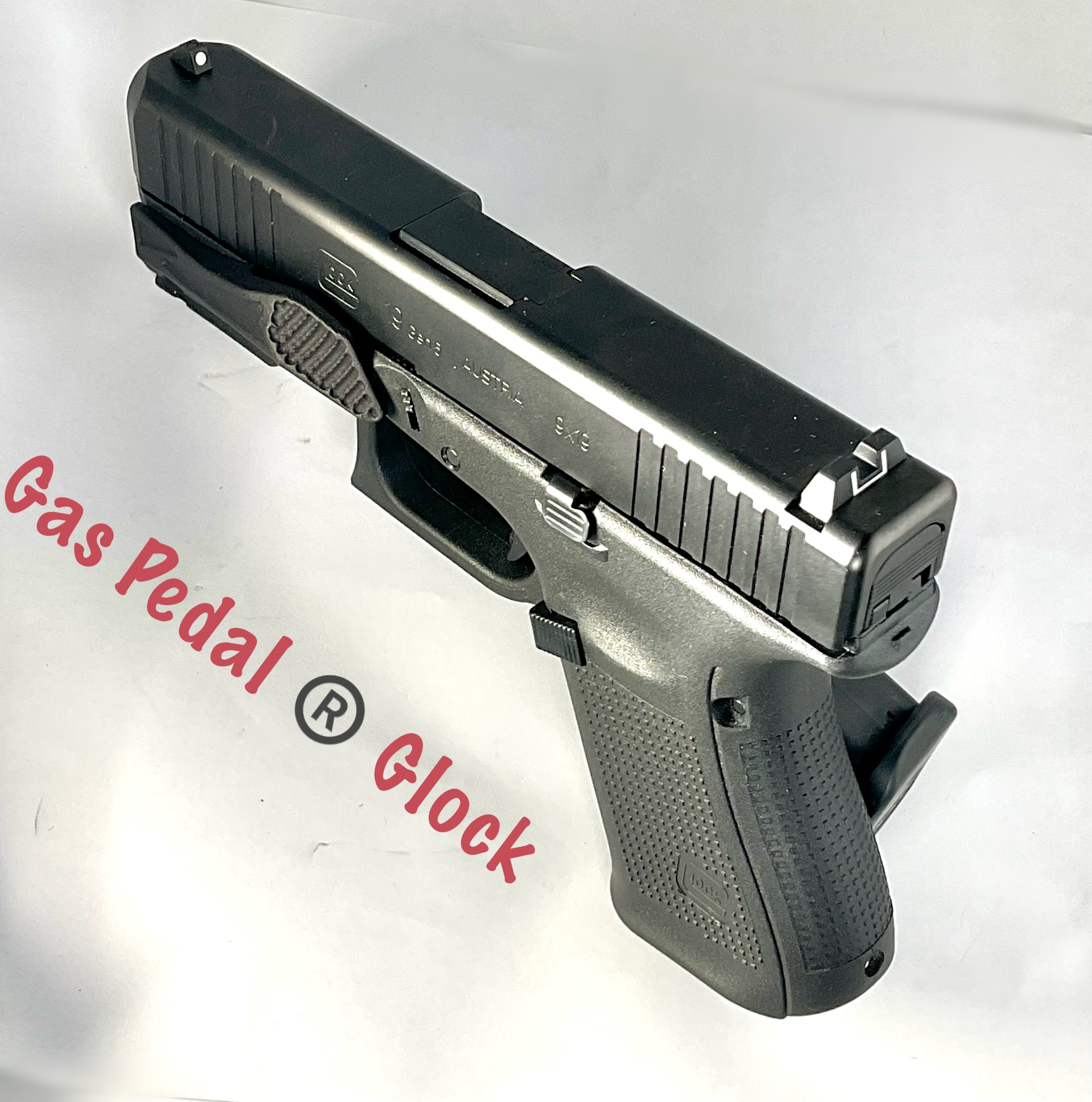 Gas Pedal® Glock 19 and 23
LH:
Right Hand trigger finger
Fastest, easiest way to shoot for Self Defense and Every Day Carry. This is page for Glock. Check main menu for other pistol models. This part requires Glock with Picatinny Rail, and has lower Picatinny Rail for mounting additional accessories. PLEASE read entire page before ordering. This page for 19, and 23. 
For Glock 17 and 22 see page
Please note Right handed means trigger finger is Right hand and Pedal is on left ( from shooters perspective. ) Left hand is opposite, Trigger finger is left hand and Pedal is on the right

Easier self-defense  for everybody

Ultimate Gender Equality

Makes repeatable, reliable, accurate  high power shots much easier. EVEN in high stress situations.

Fits recent Glock 19 and 23 (Gen 3,4,5) and most Glocks with Picatinny Rail. (HOWEVER, OTHER GLOCK MODELS MAY NOT FIT EXACTLY. They will function properly but may overlap take down slide or have small amount of flex). If you don't have a 19, or 23 and want absolutely perfect fit, dont order. Other perfect fit Glock models coming later.

OPP Wing®and MicroProp™tech for

OPP Grip

. 
Controls recoil even for those without big or strong hands

Helps Eliminates windage error AKA trigger jerk

Over 10,000 in field  for previous pistol models with over the top rave reviews from shooters and not a single failure to function

Fits many holsters and virtually all with minor mod

No Gunsmithing Easy to attach to Picatinny Rail

Opposable Grip Concept proven in Racing having dominated National and World Championships. Now also proven by SWAT teams for carry gun.

No Snag design

Contoured to ergonomically position thumb. Does not interfered with Take down.

Saves on Ammo training costs. Much quicker to master than traditional methods.

This model made with advanced tech very strong 3d printing. Not your older brothers 3d printing

IF YOU PULL TRIGGER WITH RIGHT INDEX FINGER YOU WANT RIGHT HANDED MODEL. IF YOU PULL TRIGGER WITH LEFT HAND YOU WANT LEFT HANDED MODEL.

Genuine Gas Pedal® Brand
100% Made in USA
Doc's dream come true; easy self defense for everyone. No longer just a dominating technique for expensive pistols. It's a drop in part that makes it much easier to shoot hot loads even for those without strong hands, very easy to learn, repeatable, reliable and accurate. The  OPP Grip concept has been proven in competition  having dominated National and World Championships And won consecutive National Champions, 2015, 2016, 217, 2018,2019, 2020.2021..And also in the field with rave reviews by shooters and SWAT teams. The OPP Grip is much easier to learn than traditional methods. Just put your off hand thumb on Gas Pedal® Grip and squeeze. It's that simple.
Before it was a competition concept, Now it comes for a carry gun,  No gunsmithing, can be installed in a minute or less by attaching to Pic Rail. 

HOLSTERS, NO PROBLEM!: Adds only about .250 inches to width of gun compared to stock and fits most  holsters, those that don't fit, require only minor mods.
If you dont have a holster that fits see this quick easy mod vid
IMPORTANT Angle your off hand thumb towards the bore.DO NOT press straight down. If your thumb slides off you are not putting pressure in the right direction.
VERY IMPORTANT: This is for a newer type of grip than most Glock users are accustomed to. Most important thing to do is index with your thumb first and squeeze. If you start with old school grip of locking palms together you will lose strength and possibly be unable to reach the Pedal. If you have a gap in your palms at rear of pistol that is just fine as long as you squeeze with off hand. Believe us, after more than 25 years of development and wining virtually every championship around, we know a better way to shoot. However if you have mastered the old school technique and are completely satisfied with your current performance, this part is not for you.
No refunds for this part