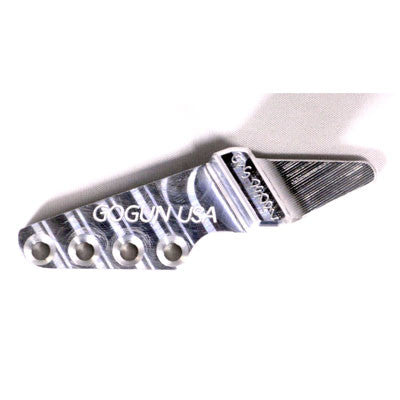 GasPedal® Racer Cut Thumb Assist Aluminum Machine Finish (sku 112)
The Gas Pedal® Brand  is THE original Thumb assist and still the best. 
Many others have copied us which is flattery. HOWEVER THEY JUST DONT GET IT RIGHT. Why? Because they dont understand the physics of balancing all four vectors of recoil force.
This is the one that started the opposable grip concept that has dominated every National and World Championship for last decade.
This model is Genuine Gas Pedal® Racer Cut Aluminum Milled finish. It is intended for sports competition shooters. Intended for over the scope mount installation. Refined over 25 years, including price reduction due to improved technology. BattleTuffTM for life warranty, CNC made from billet aluminum. Thousands in the field with NEVER a failure. Negligible weight, less than an ounce
Note these are "rescued" pieces that may have very small hardly noticeable imperfections. Milled Raw aerospace Aluminum can be used as is or ideal for coloring.
The Racer Cut model is for those racers that like a traditional feel. For those that want a slight reduction in acquisition maybe .01 or .02, choose the Opposable Extreme model.
3.15"x .98" x .97". US Patent Number D658,263. Supplied with special screws. Gunsmith installation recommended.
The Fastest way to shoot, proven. Works same as Doc's Original, the one that introduced the world to the opposable grip that now dominates competition including World and National Championships.

Trade Dress Monolithic Wing aids performance. Eliminates windage error.

Perfect, strong grip every time

Thumb Assist Grip for Pistol