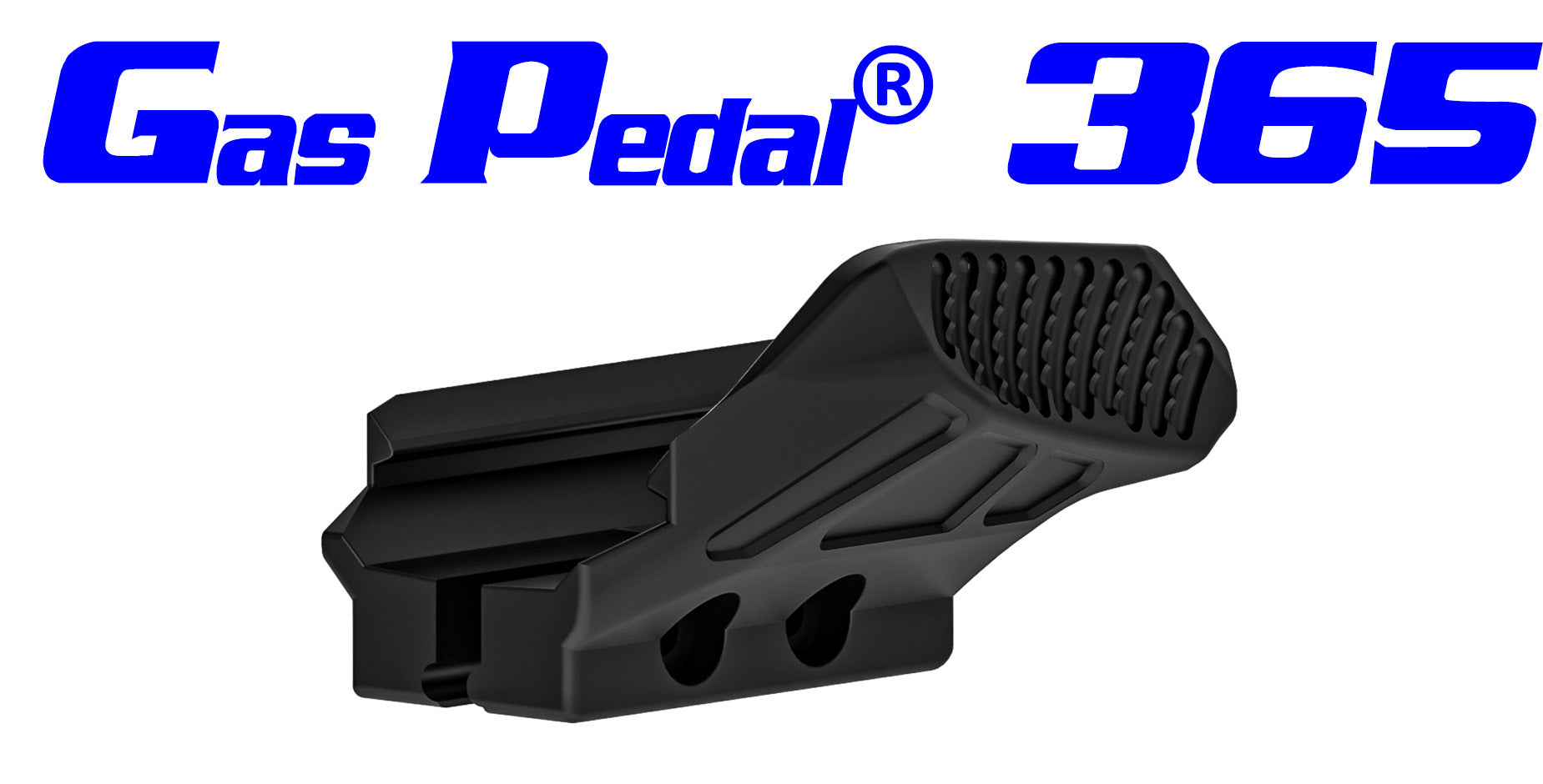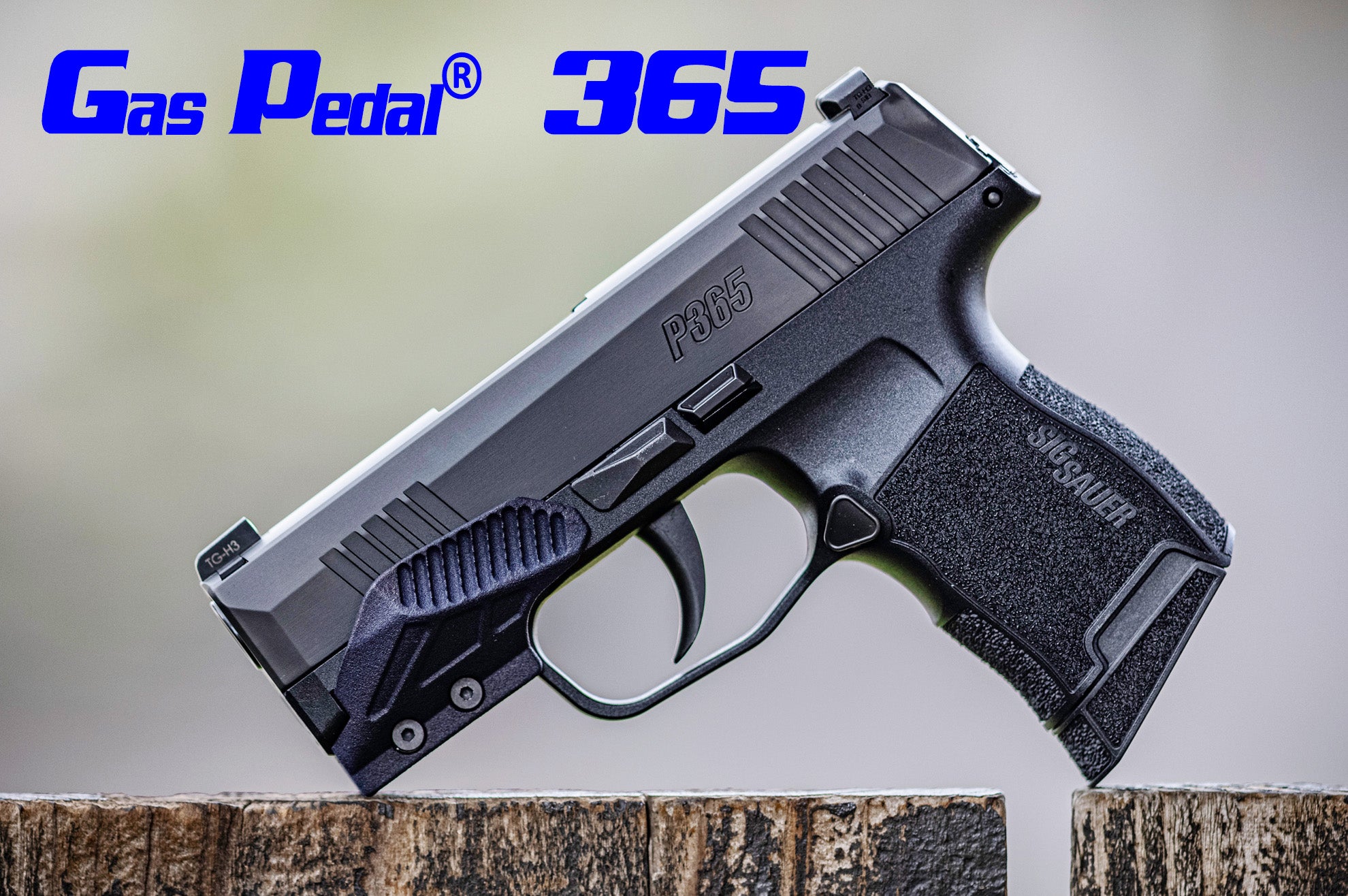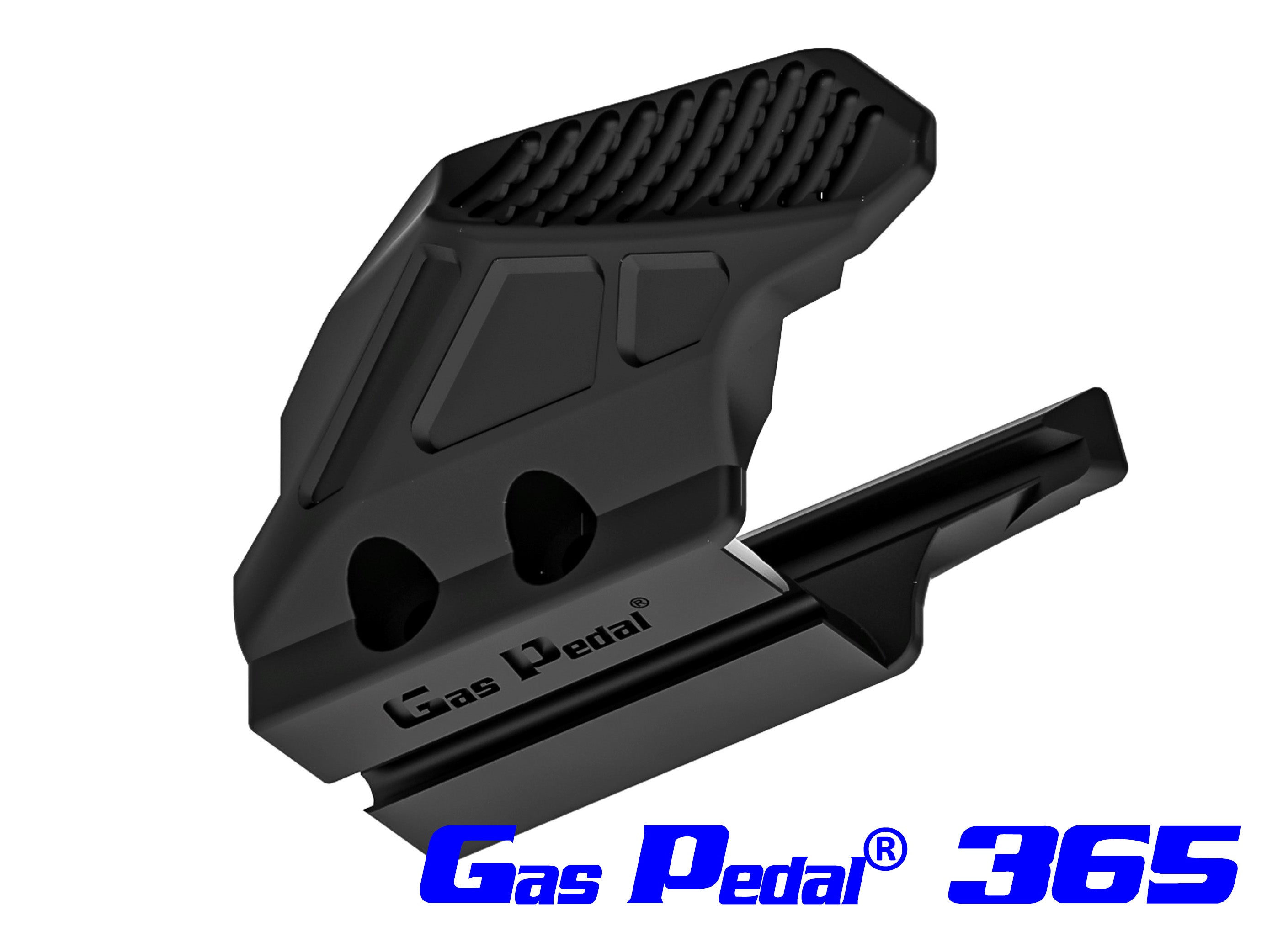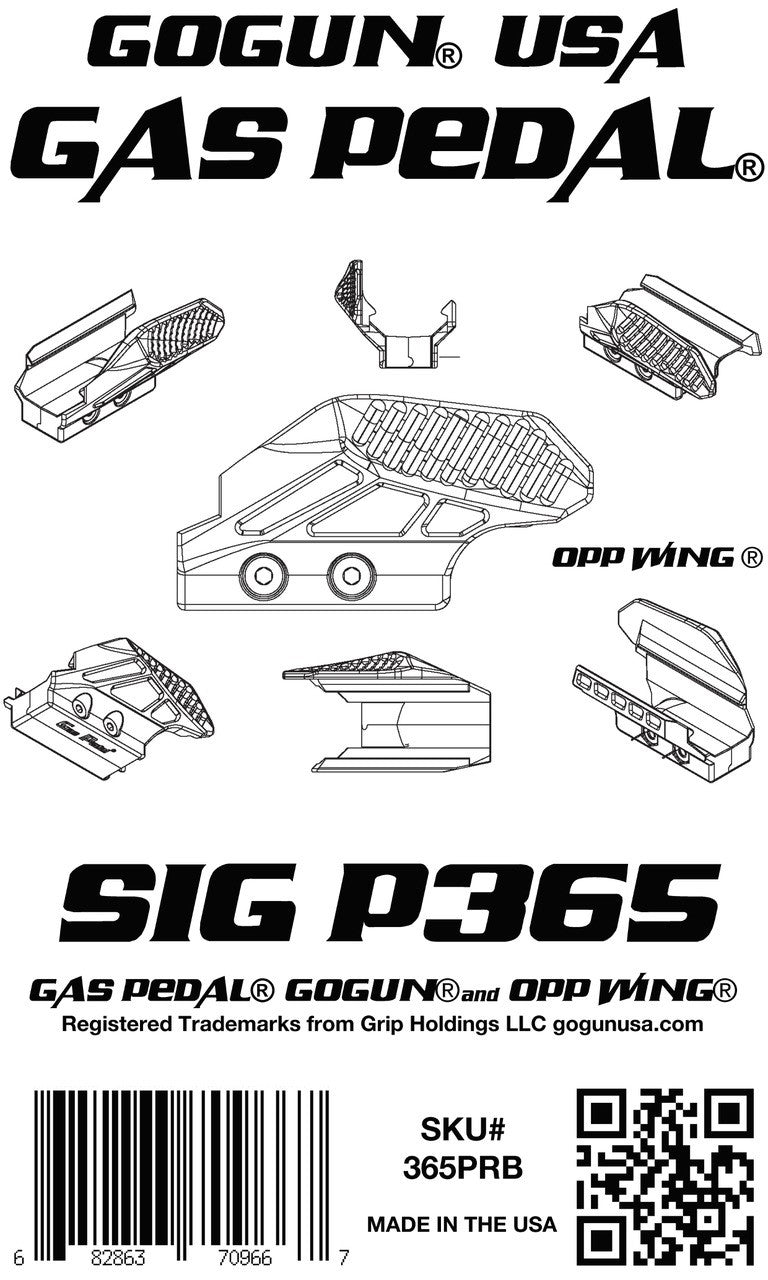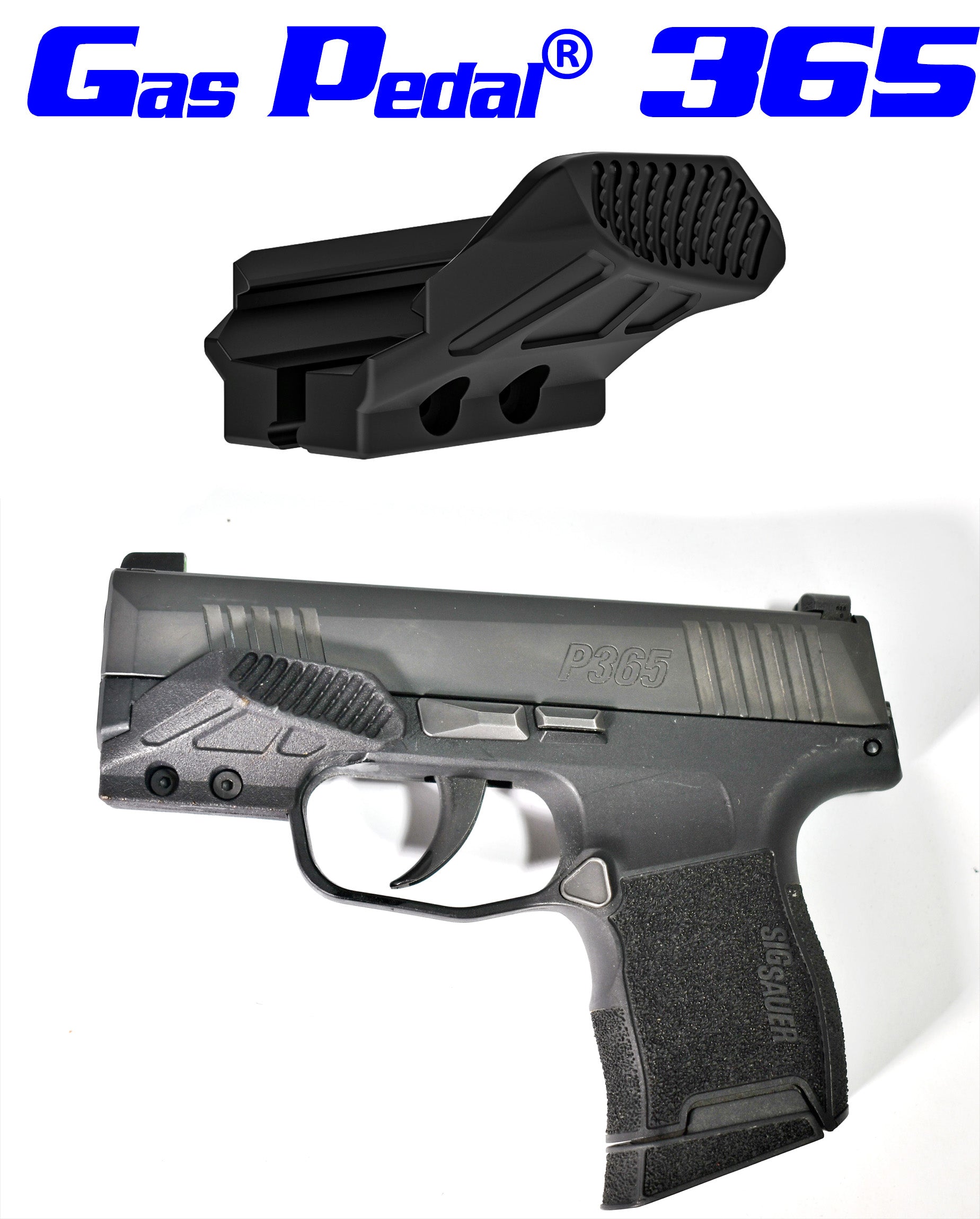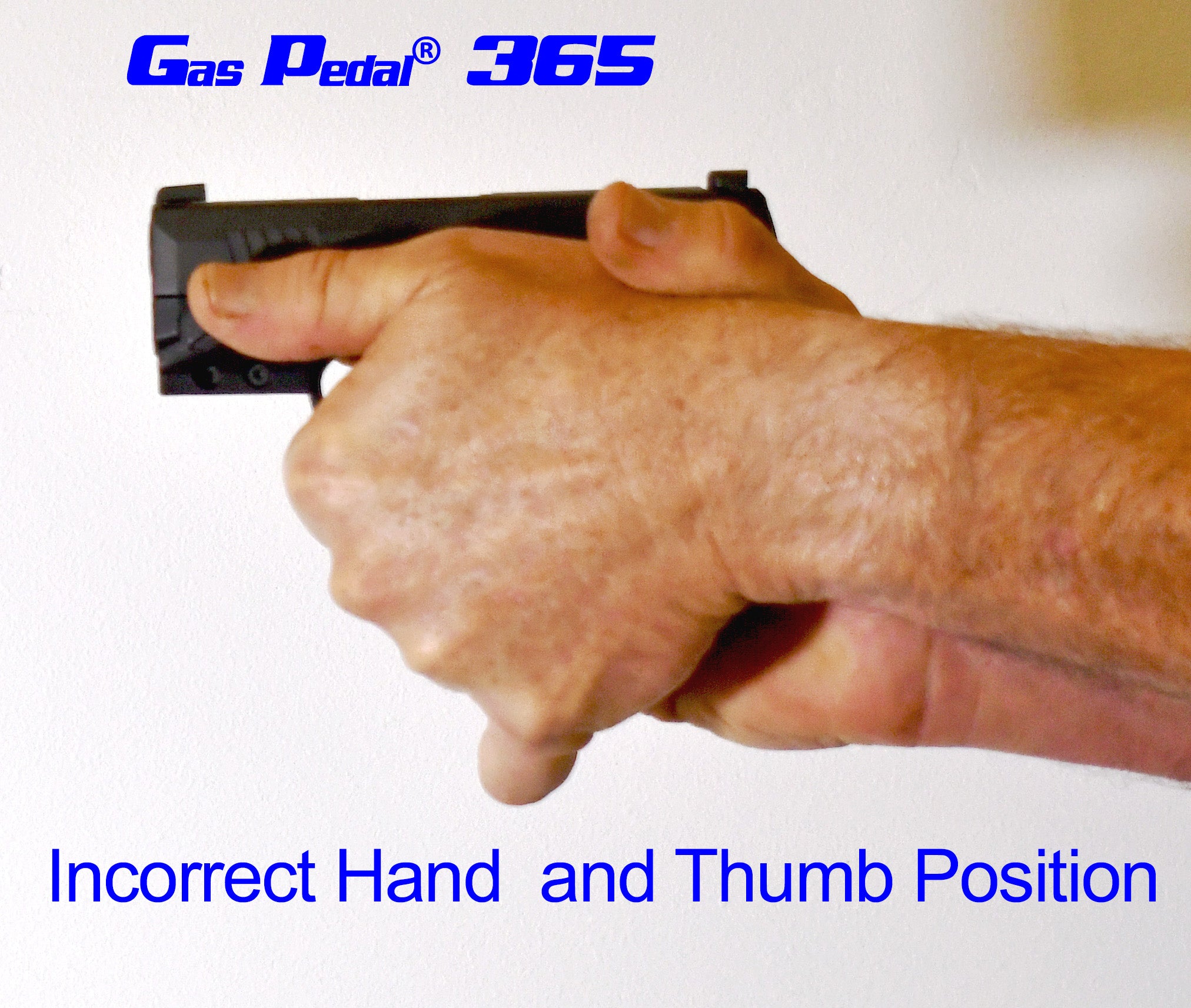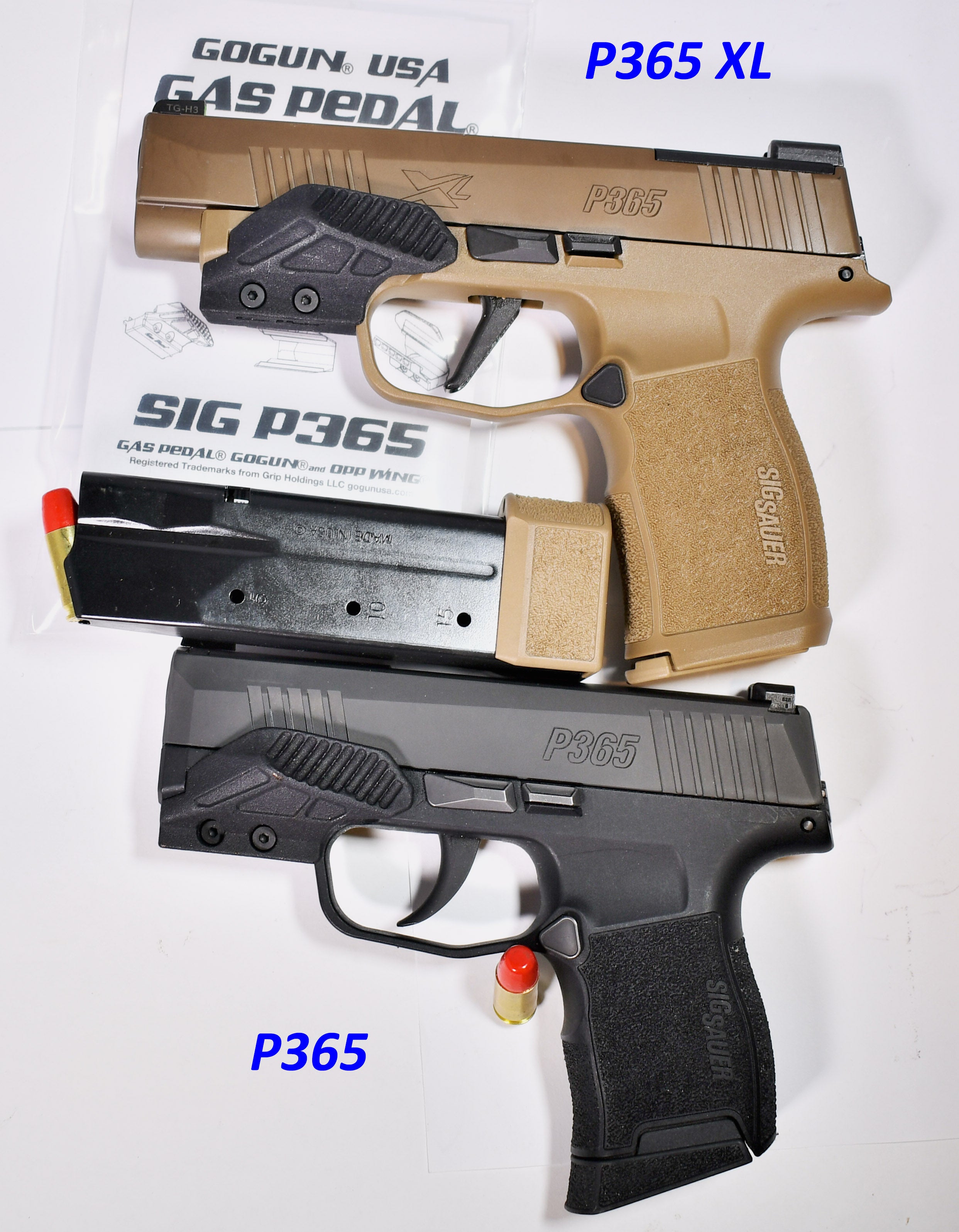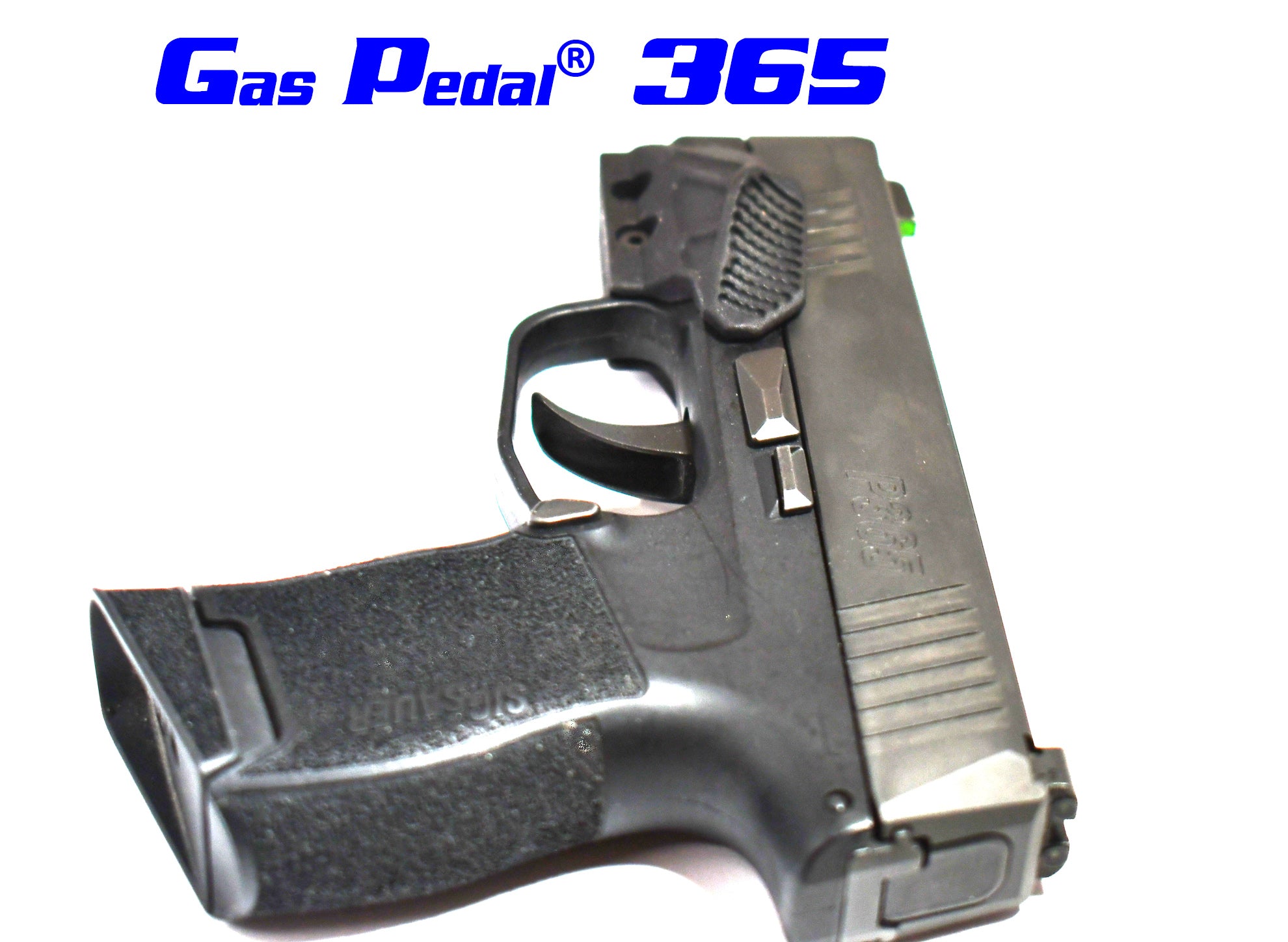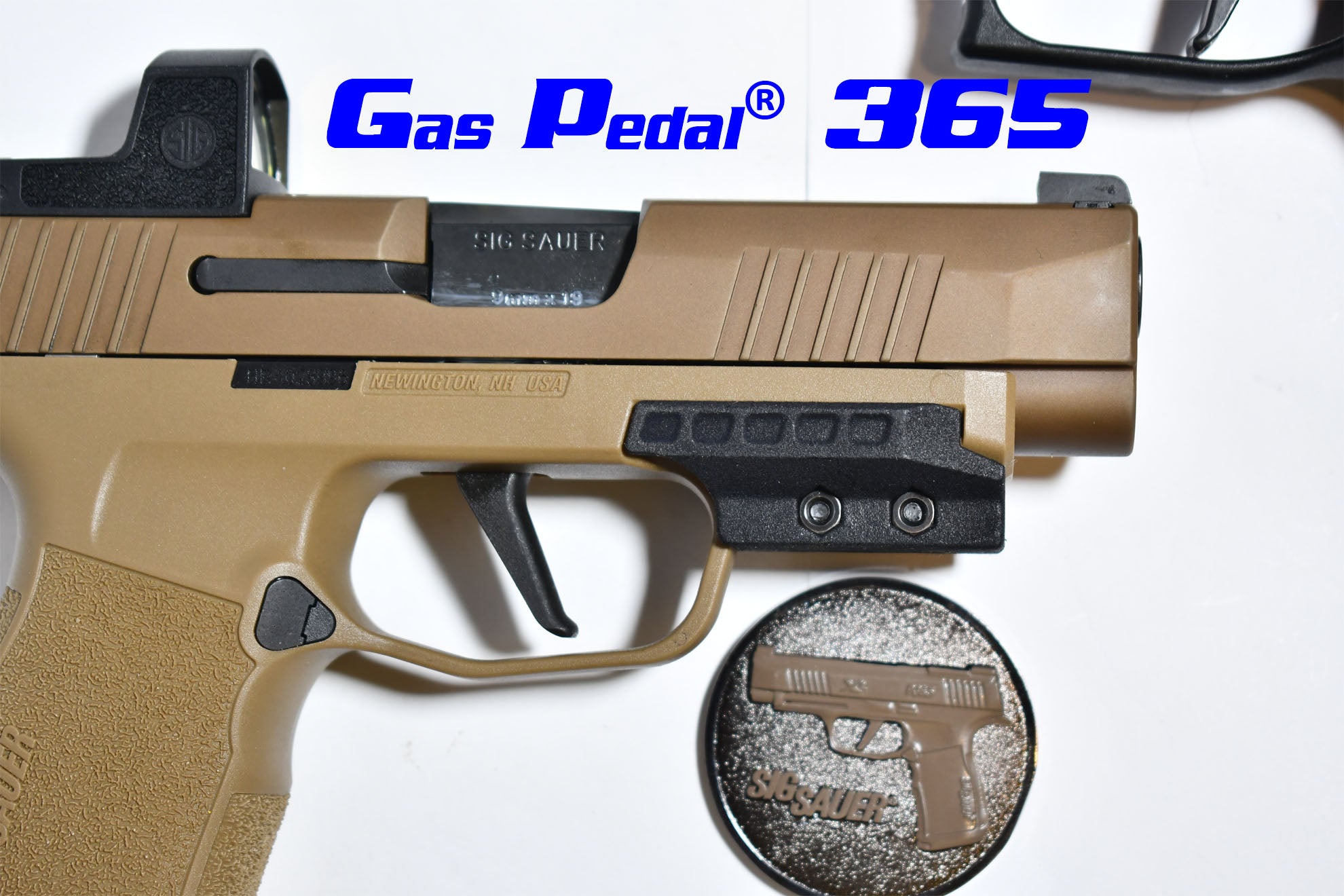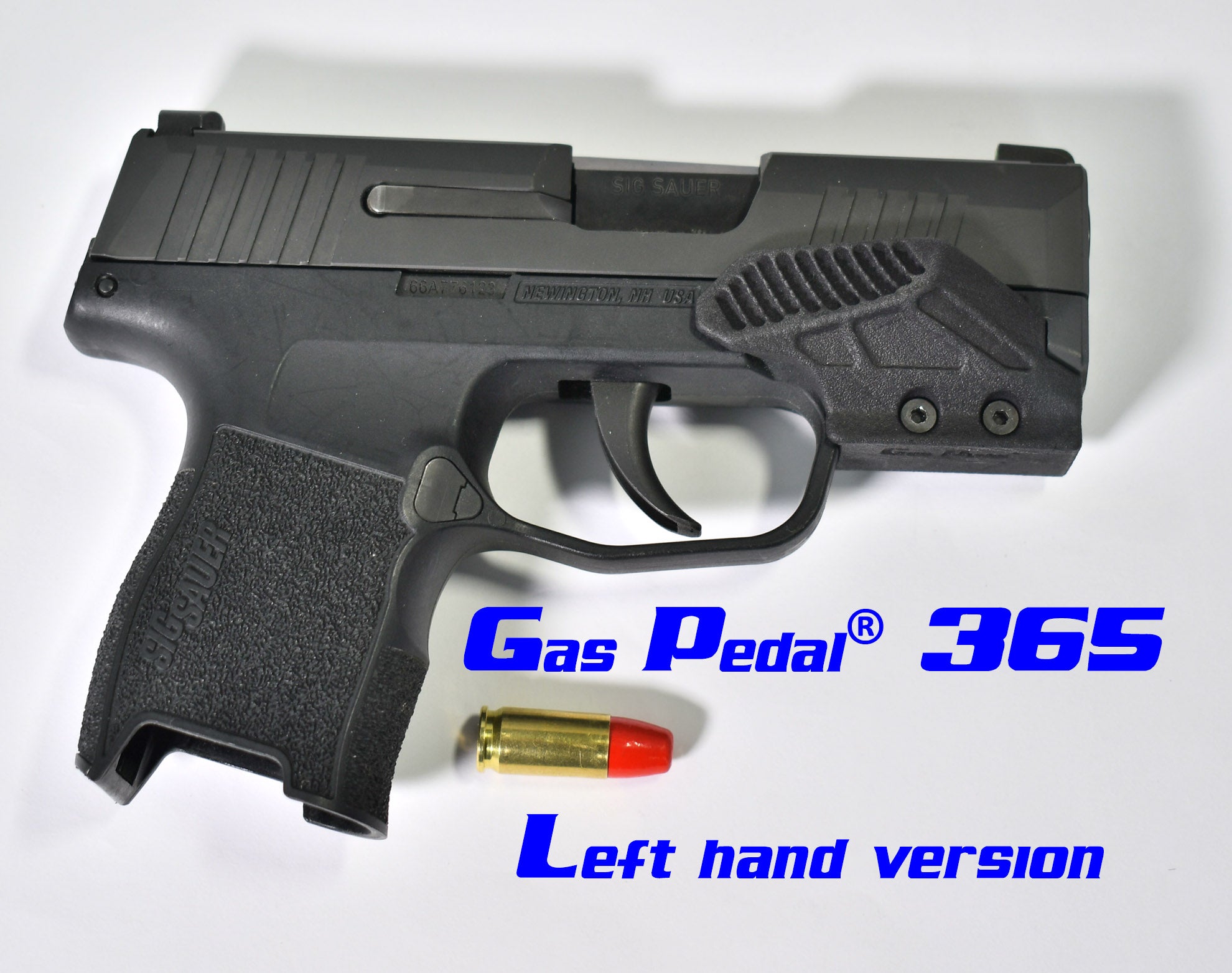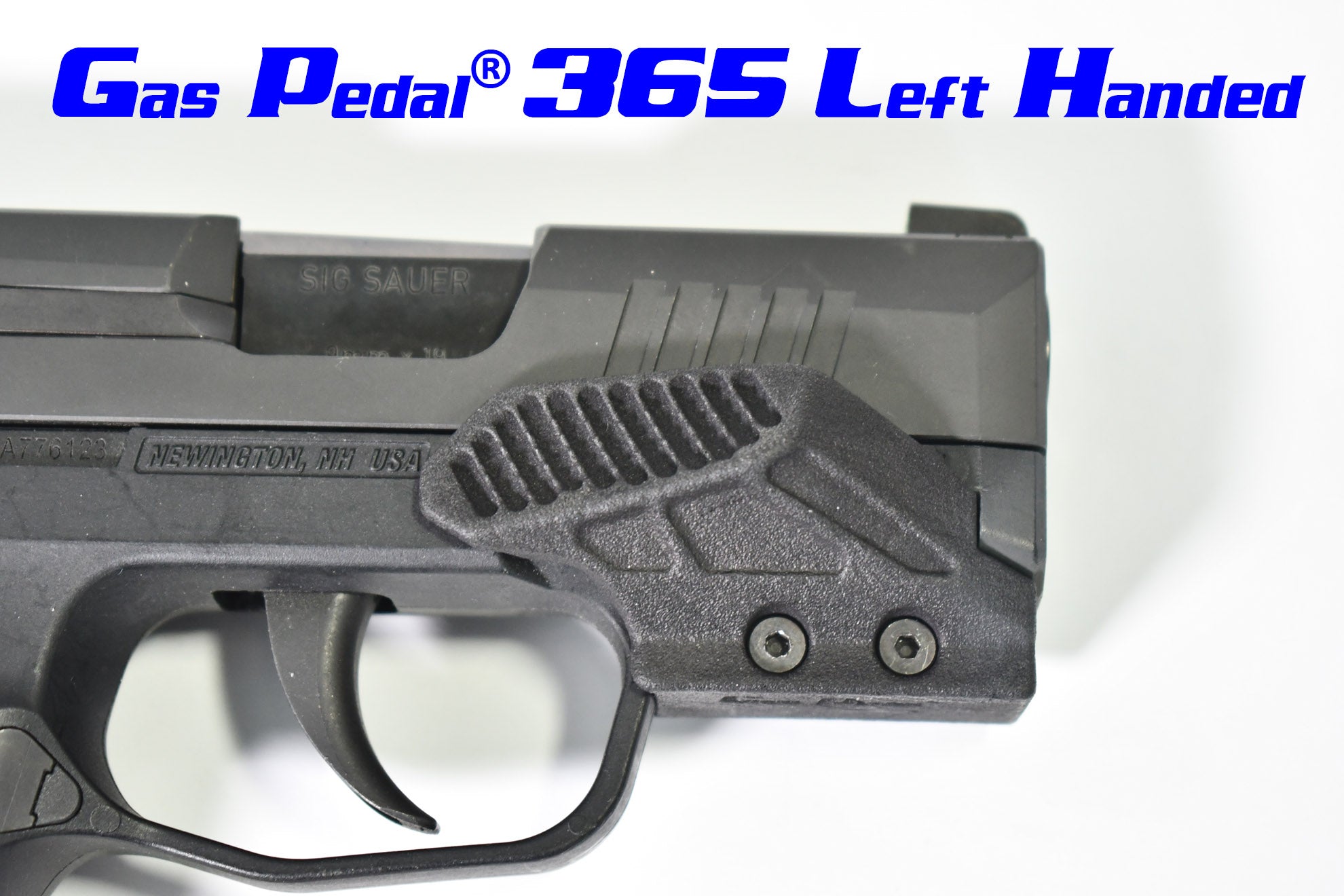 Gas Pedal® 365 for Sig Sauer P365 and Sig P365 X and XL
Left:
Right Trigger fingerGas Pedal® 365
PROBLEM: GETTING A GOOD GRIP ON A VERY SMALL PISTOL
ANSWER: The Gas Pedal® 365 makes it much easier by enabling the Opposable Grip
This is page for Sig Sauer P365, Sig Sauer 365 X, and XL, DOES NOT FIT 365 Macro (a different pistol) 
Easier self defense for everyone

Ultimate Gender Equality

Solves the problem of shooting a small pocket pistol

 A Gas Pedal® Grip for either Right or Left Handers.

Makes repeatable, accurate shots  in high stress situations.

 OPP Wing® for OPP Grip for Carry Guns

Fits P365  and P365 XL via Sig Picatinny (smaller than milspec) rail  

Helps Control recoil even for those without big or strong hands

Helps Eliminates windage error AKA trigger jerk

Uses tech proven in its big brother, P320 Gas Pedal® Take Down Lever and  before that, dominating Racing World and an US Championships.

No Gunsmithing Drop In easy DIY Part

Concept proven in Racing having dominated  National and World Championships

MicroProp™ surface for maximum proprioception (aka max grip)

Minimal addition to width of frame, (aprox 350 thousands ), Including OEM Take down lever only adds about 230 thousands to overall width of entire pistol.

"Reminder" safety surface to keep trigger finger out side trigger guard.

No Snag design

Contoured to ergonomically position thumb

Saves on Ammo training costs. Much quicker to master than traditional methods.

Genuine Gas Pedal® Brand, 100% Made in USA.

Tech Descended from many  Winning National and World Championships 

One of Doc's dreams was to put it on a very small pistol which are notorious for being hard to shoot because they are hard to grip, have short sight radius and recoil more than their same caliber larger cousins. THE PROBLEM IS WAY CUT DOWN WITH THE Gas Pedal® 365.

 No Gunsmithing, easy drop in part. Has all the advantages of four axis control as all other Gas Pedal Models, namely flip, windage (aka trigger jerk), twist and pure rear impulse.

Right hand means Trigger finger is Right. Left hand  means Trigger finger is Left.

Light weight .3oz!

Manufactured with ultra high tech 3d printing which yields Nylon glass infuse, similar to other gun polymers used in polymer frames. Not your older brother's 3d printing.
IMPORTANT ORDERING INFO: If your trigger finger in Right Hand you want Right Handed version. If your trigger finger is Left hand you want Left handed version.