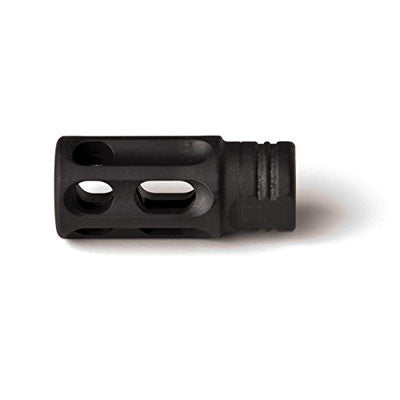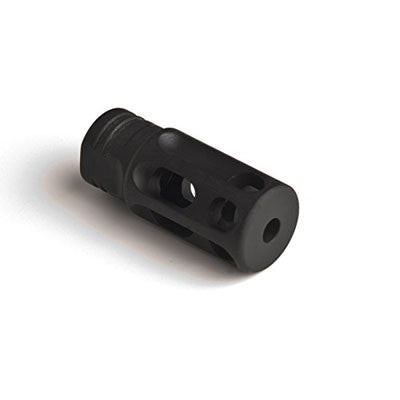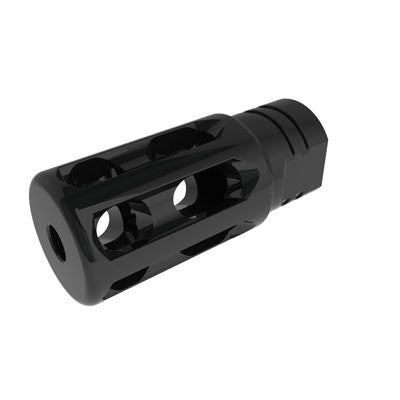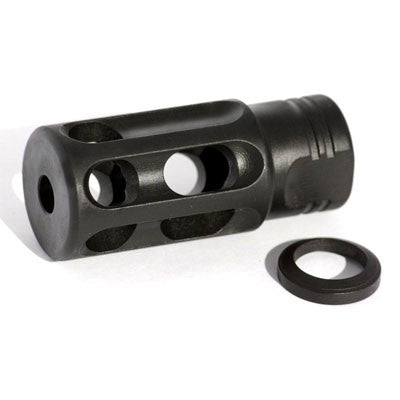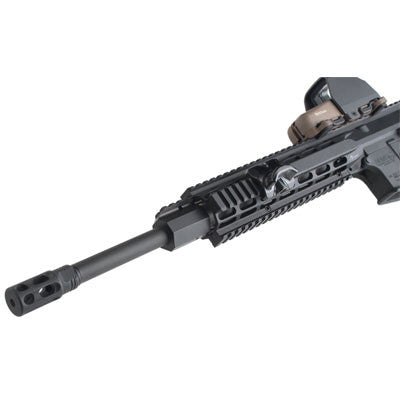 SuperComp® No Talon .223 Muzzle Brake 5.56 Black Steel (sku 104)
CLEARANCE .223 muzzle brake
Best value muzzle brake .223
One of best deals in the store.
This is the premium compact brake you always wanted at an affordable price. Original patented SuperComp® design with Hex SSPTM (6 way Star Stabilizing Pattern). It hits the sweet spot in terms of value, recoil reduction, fastest return to zero, and Battletuff for life warrantee. Excellent for .223, 5.56. Shooter's say "its like a .22".
YES, we make some big claims but read the reviews and you will see shooters rave about it. This NT is 2 chamber 9 ports. Unless you are competitor, this is plenty of brake for the average .223/556 shooter and terrific value for a genuine SuperComp® Brake. Although this is more than enough, for even more recoil reduction choose the XL with 3 chamber 14 ports. SuperComp® brakes are the beefiest brake we know of and were designed to take incredible abuse and never fail in any real world situation. CNC Made from billet 4140HT/PH 28-32 Chrome Moly steel. There are thousands of SuperComp® brakes in the field  for over a decade of use and none have ever failed. Not a single one
Everyone has the same response when they first shoot it, AMAZEMENT. It comes out superior in every side by side shoot out we have heard of. Chris Tilley, two time national champion says it has least sight movement of any brake he has fired. Texas Gun Talk rated it better than the competition. Range shooters report less than 10 MOA disturbance of reticle in recoil. Does not change your USPSA rifle division. Parkerized finish with included crush washer.
As an example of quality, threads are cut with time consuming multiple pass single point cutting while brake is still in lathe to ensure perfect concentricity and no effect on accuracy. Most other manufacturers cut threads with single pass course die.
Weight 3.8 ounces. 2.3 inches long x .996 diameter. Adds approximately 1.7 inches to overall barrel length. US Patent #D666,687 Talon Tips Patented and claimed as Trade Dress. US Patent #D692,086 Axial Port design restated as Design without Talon Tips.
Least sight movement of any brake in its class, very rapid return to zero in .223 Very compact with genuine SuperComp® engine inside. Unlike other brakes will not degrade accuracy.

Not a suppressor or flash hider, it's a muzzle brake

Incredibly BattleTuff, Will not fail. Best value ever for real SuperComp Brake

This model is parkerized steel .223/5.56 threaded ½ x28tpi

Great in Bolt Action or Semi, Great value.

Includes crush washer