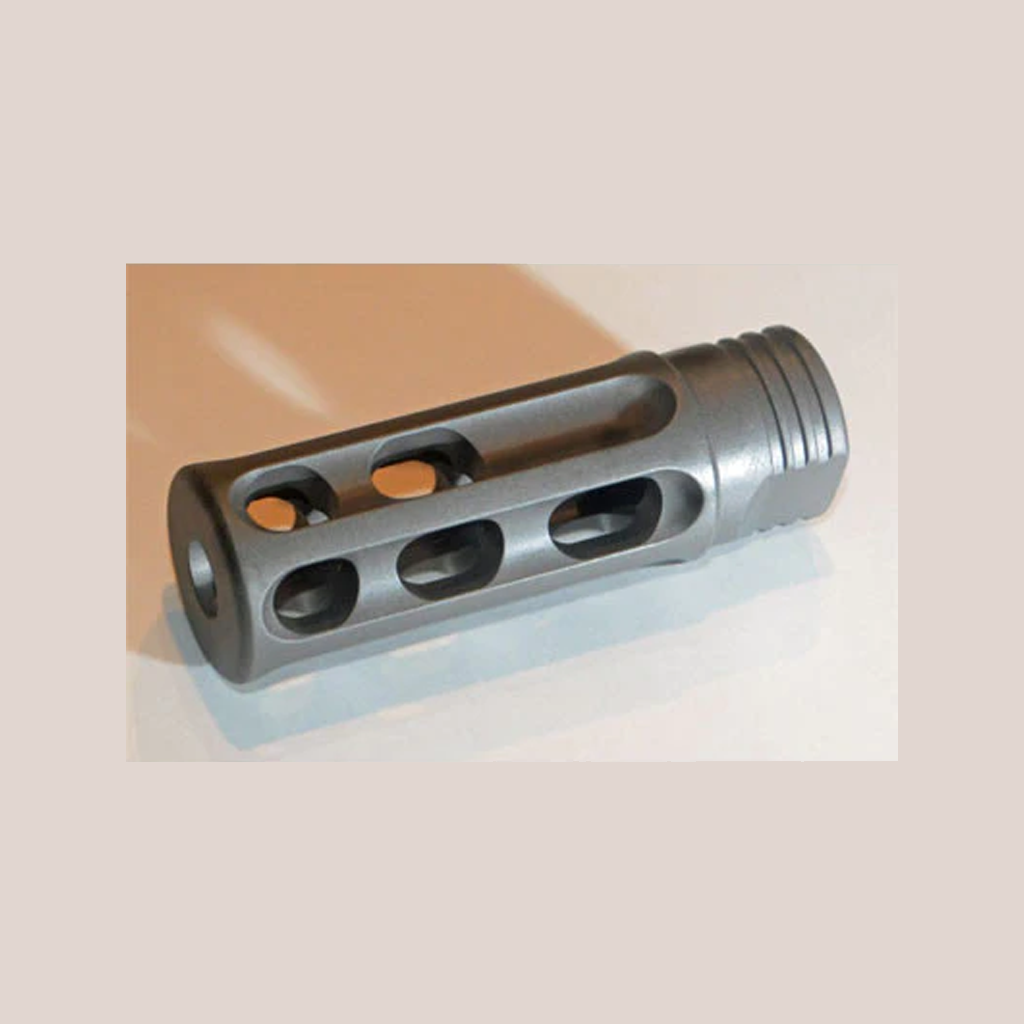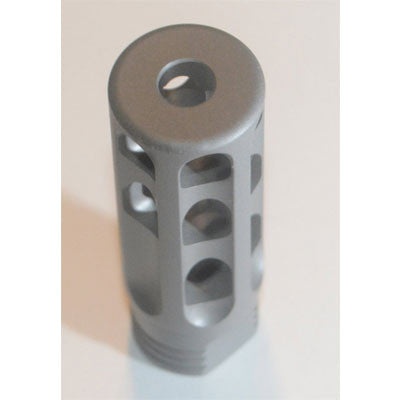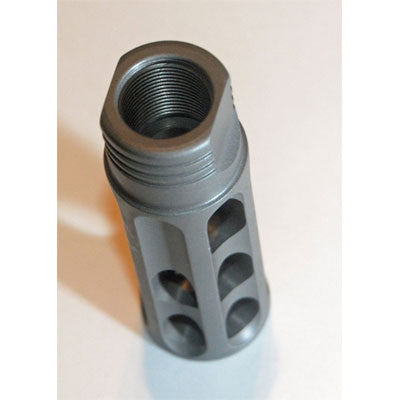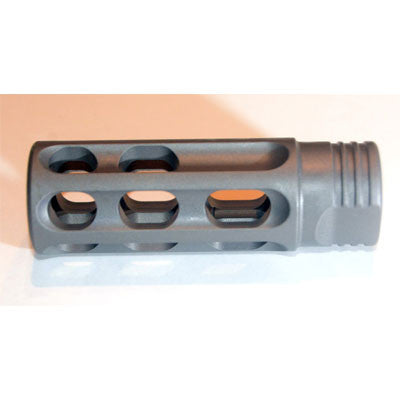 SuperComp® XL .308 Muzzle Brake 30 cal 7.62x51 Titanium (Bead Blasted Stealth Gray) (sku302)
 FABULOUS light weight Brake. Simply best light weight brake on the planet for reasonable price. Limited stock
Top of the top line of SuperComp® Brake. Intended mostly for competition or those that want lowest swing weight. Slightly lighter color than shows on web
This the SAME brake design that, in steel,  has gotten rave reviews for multiple 30 Cartridge's BUT IN TITANIUM.  Why Titanium? Its simply the best metal available for brakes. Although it is more expensive metal and hard to machine it is ideal for brakes because it is roughly half the weight of steel enabling what is necessary for an effective brake namely lots of area and beef. It is a premium product for those with discerning tastes or need for low swing weight.
This model is TITANIUM Bead Blasted .308 version. Natural flat gray to start. Suitable for coating or as is for little reflectivity. The SuperComp® XL brake is the ultimate in recoil reduction and fastest return to zero of any brake we know of including our own other SuperComp® brakes. For lightest swing weight and rapid acquisition, this model cannot be beat. So good it previously was on JP team rifles. The SuperComp® XL brake in .308 is our best seller. In .308, recoil feels like a .223. It uses the same patented SuperComp® Design as our other SuperComp® brakes but this model has three mixing chambers and a whopping 14 unique axial ports. No rearward facing gills for unwanted blast and side concussion is only moderate. Sound is actually reduced compared to Birdcage. The result is incredibly fast follow up shots. Shooting .300 Blackout? Use the .308 model for hypersonic or subsonic loads and virtually no recoil. So little muzzle movement, most time you can see your hits thru scope.
6.5 Shooters, 270 and 300 Win Mag,  this is the brake for you. We have had rave reviews from the shooters. Superb accuracy due to virtually no gas turbulence.
Weight:  2.5 oz in Titanium.  Titanium is the ultimate metal for brakes because of strength and light weight. However it is best suited for those who want the ultimate despite downside of sparking at night or with hot loads. It does not wear as well as steel but will not fail. It is very difficult to machine which is why it costs more.
Caution, untreated Titanium can spark with hot loads. 
 Dimensions:  2.996 x OD .996 inches.
US Patents D  D 666,687 692,086 711,491
TITANIUM (Grade 5) is simply the best metal for brakes. Bead blasted

Ideal for .308 or any 30 cal bullet like 300 black out. Least sight movement available of ANY brake we have tested.

Thread pitch 5/8 x 24 tpi Standard for most .308 barrels, Great in Bolt Action or Semi

SuperComp® XL also available in .223, or steel or, machine Titanium Finish, or Titanium with Diamond like coating(black)

Includes Crush Washer


Not a flash hider not a suppressor